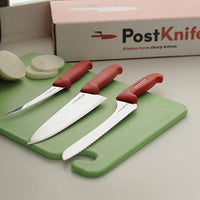 What is
PostKnife?
PostKnife is a subscription knife service that delivers freshly sharpened knives to your door.
We exchange between two sets of PostKnife knives. When your fresh knives arrive by mail, send the used set back for sharpening. PostKnife provides & sharpens the knives, and pays for shipping.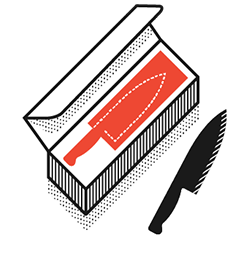 Receive
Your fresh knives arrive in the mail. Gather the used PostKnife knives to send back to us for sharpening.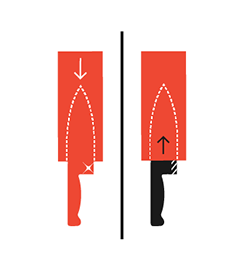 Replace
Carefully remove the fresh knives from the sleeves. Insert the used knives into the sleeves and put them in the box.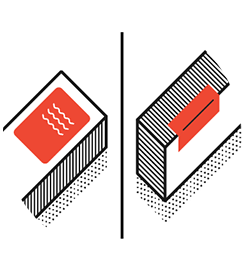 Return
Apply the mailing label and seal the box with the tape. Send the used knives back to us in the next day's mail.
What our customers

are saying
Loving the knives. I used one of the chef knives at the cafe to bang out prep for a party of 150 the other night. I swear it cut an hour off my prep time.

David Smith - Chef at Tahoe Mountain Club (Truckee, CA)
I've been very pleased with the knives we receive with our subscription. The packaging and mail services have been very easy to use and faster than I would have expected. It is nice to always have sharp knives in the drawer!

Jim Smallwood, At Home Subscription (Denver, CO)
Finding PostKnife was a huge stroke of luck for us. We see up to 1000 people on our busiest days and with a small staff, knowing you can get into the kitchen and get working without having to worry about your quality of tools was one less thing to worry about. Customer service was very accommodating... we were able to customize our orders and the cost doesn't break the bank!

Caitlin Maguire, Historic Pittston Farm - Rockwood, (ME)
I'm very happy with these knives. The edge is light-years beyond the average knife service I have used in the past. The simple fact that we can do this by mail on our own time is EXTREMELY valuable. It's a perfect fit for our kitchen. Thanks a ton!

James Phillips - Executive Chef - The Farmers Table (Medina, OH)
Best decision I ever made. I literally don't have time to sharpen knives and having them sharpened helps meal prep move a lot quicker. Great customer service, quality product. I'm a fan.

Mica Cole - At Home Subscription
Benefits of a PostKnife

Subscription
Sharp = Safe
Regular deliveries of freshly sharpened knives means you are always using the best possible tools. Whether in a home or commercial kitchen, sharp edges mean fewer accidents. Plus, no contact delivery!
Convenient
Receive sharp knives, then return your used PostKnife knives in the same box. We even include the tape and label for no-fuss return shipping.
Less to Manage
A PostKnife subscription does the work for you. You'll always be working with fresh knives with little effort.
Efficient
As anyone who's ever worked in a busy commercial kitchen knows, efficiency is key to success. PostKnife can help you do more in less time, help your kitchen handle rushes more efficiently, and turn more covers.
Economical
PostKnife is cheaper than owning and maintaining your own knives, and allows you to focus on the food.
Our Unique Edge
Knife sharpening has been our family's trade for four generations. Using methods our ancestors brought from the Dolomite Alps region of Italy, we sharpen knives by hand with a water-cooled grindstone, giving the edge a superior shape and finish that will last.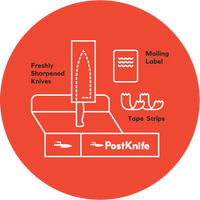 What's in
the
Box?
Every shipment contains your chosen set of freshly sharpened knives in protective sleeves. A mailing label and tape strips are included for return shipping.